Two years of living with COVID-19 is a long, very long time. Our social and professional relationships have had to adapt to this virus and we can say that it has not always been easy! It has also changed the professional landscape: complete remote work, economic unemployment, layoffs, new way of working, … In 2022, at DHS Digital, we opted for "remote first": no more fixed office and total geographical flexibility. Working in advertising on social media, my one and only constraint is to have a good internet connection. Pretty cool as a constraint, even if it can sometimes be a challenge (spoiler alert!).
Last February, I therefore decided to step out of my comfort zone in order to live my first experience as a digital nomad. I was about to fly to Portugal to spend two weeks in Porto and two weeks in Lisbon.
Before embarking on this journey, here are the four questions I asked myself:
Why do I want to live this nomadic digital experience?
The "why" is the driving force behind this kind of initiative and it is essential to define it well. Personally, these months of confinement have allowed me to rethink my priorities. I decided to invest more in myself by integrating my job into my life, and not the other way around. And that changes everything ! In a society where hyper-performance qualifies us as people, I had the deep conviction that an alternative way of life was possible.
Where will I go?
After writing down my motivations, I was finally able to start the search to find the ideal destination for me. There were a lot of choices but… it's not always easy to find the right one!
For me, Portugal turned out to be the best choice because it had everything I was looking for:
The sun. With a capricious weather in February in Brussels, we can say that the 20 degrees announced seem comfortable.
The cost of life. The financial dimension is not something that should be neglected when traveling for several weeks. I recommend estimating the cost of the trip as well as possible to avoid unpleasant surprises.
The presence of thousands of digital nomads. Portugal is one of the key destinations for them. To fully live this experience, it seemed important to me to join them to guarantee human and cultural enrichment.
A housing actor expert in digital nomadism. I chose "Selina" accommodations for this experience. They own many hostels across the country which made my trip easy: one point of contact, two accommodations. I was really seduced by the concept which combines relaxation areas and work areas. Not always easy to find a serious coworking and a stable WI-FI.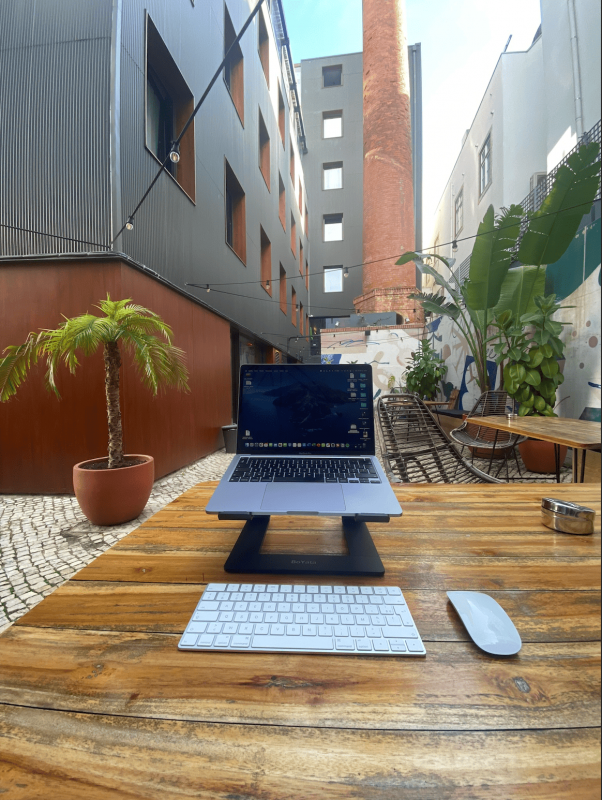 Is it really possible to work away from home?
No, working from abroad is not synonymous with vacation. Improving your living environment means changing your habits and adopting a certain rigor. Working away from home can therefore represent a challenge in terms of the quality of one's work and can quickly have a perverse effect. This way of life can serve as an argument for gossips to justify a mistake or poor performance. So the margin of error is therefore small, be aware of that!
We too often underestimate the importance of our workplace and the vibes that emanate from it. For me, working outside under 22 degrees has been extremely beneficial: increased well-being at work, increased productivity, reduced stress and a better work-life balance.
Will I feel alone as a digital nomad?
Traveling alone is not natural and it can be a source of anxiety.
In Portugal, I was able to talk to dozens of people who, too, have decided to take back control of their lives. So I was not alone in my quest! Regardless of the age of these people, their gender, their origins or religions, they all had the same desire: to offer themselves a better living environment and the autonomy necessary for their personal development. We spent real human moments which allowed me to benefit more from this experience.
On the other hand, the fact that I only spend two weeks in each city did not allow me to find stability in my relationships. Two weeks goes by very quickly and everyone has their own roadmap. I happened to sympathize with other digital nomads but then, I had to watch them leave the city four days later. It is therefore necessary to constantly reach out to others and not hesitate to discuss via dedicated Facebook groups or the many sites that make these exchanges possible. In consequence, it is very rewarding but it requires a certain personal investment.
And now, dare I try the experience again?
In the end, this first experience as a digital nomad really changed my perception of work. Back in Belgium, I could say that I had taken up this challenge: to reconcile what life really is with my professional activity. During my working days, I had the freedom to work from different areas, each with their own energy. After these, I had plenty of time to enjoy all that Porto and Lisbon could offer. Said like that, it seems basic, simple. In fact, I had never let go so much. I am rather proud to have been able to keep this vision in Belgium and I intend to repeat the experience during this year.
I can only recommend digital nomadism to workers who want to try the experience but have not had the opportunity to do so yet. As you will have understood, getting out of your comfort zone is not easy, but you get so many benefits from it. It is the guarantee of opening your mind to the world and putting your "me" back at the center of priorities. What if the worker of tomorrow was completely free?