"Coworking" is a word that has been in our vocabulary for over ten years. Being a shared space, it is more than just an equipped and welcoming place; it is a real meeting and training place. The interactions that take place and the atmosphere that reigns within these spaces are difficult to describe, but give us an indication of the type of work that will be successful moving forward… more collaborative, more open and more human. However, given the growing number of coworking spaces, it is not always easy to find the most suitable place for you. That's why we decided to make a small selection and give you an idea of prices for your convenience.
Brussels
Right in the heart of Brussels and with 70 places and 7 spaces, Factory Forty is a must in this capital city. With the main concern focused on the professionals who use the shared offices, the space offers flexible solutions that are adapted to everyone's needs. The advantages? A garden with a henhouse but also a catering service and a siesta room. That's the dream, right?
Several prices are available:
– 4 days: 70 €/month
– 12 days: 150€/month
– 20 days: 210€/month
– 24/7: 280€/month
– Private offices: 680€/month
You can see all the offers here: https://www.factoryforty.be/coworking-space-brussels/
Already well known in Brussels and occupying several locations, Silversquare is one of the pioneers of coworking in Belgium. It regularly offers events and presents its offices as true entrepreneurial hubs accessible to SMEs.
Several prices are available:
– Hot desk: 295€/month
– Dedicated desk: 395€/month
– Private offices: 600€/month
– Day pass: 30€/day
You can request a custom offer adapted to your needs. Check it out at https://silversquare.eu/our-offers/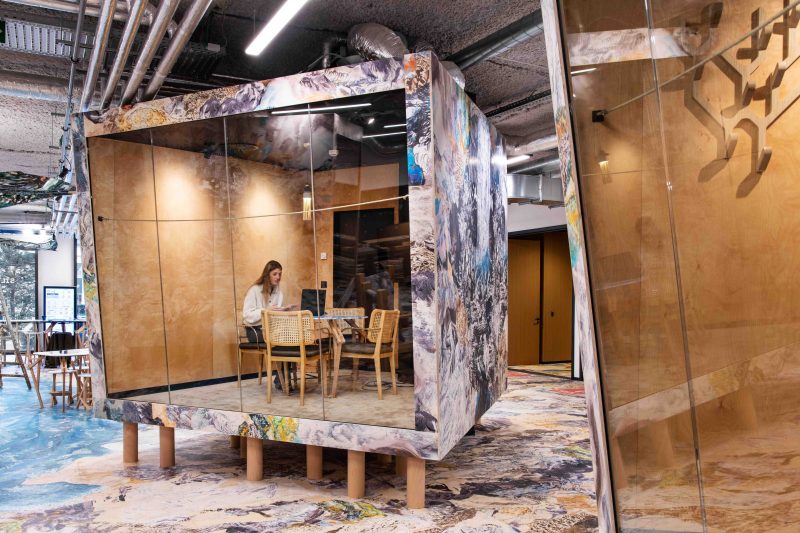 Co station brings together a wide variety of startups, scale-ups and established companies. This office can be seen as the essence of the tech ecosystem and undoubtedly a "go-to" space! With offices in Ghent or Brussels you will be able to find what you want: flexible workstations as well as small and large offices in a friendly atmosphere.
Several prices are available:
– Flex office: 199€/month
– Fix office: 250€/month
For a suitable price offer, do not hesitate to visit the following page directly: https://co-station.com/pricing-offices/
👉 https://www.techlounge.be/en/
Tech.Lounge is a tech coworking space equipped with the latest technological applications: shared workspaces that are fixed or flexible, meeting rooms, relaxation and networking areas, a brainstorming center a fully digitalized training area and even a recording studio!
Several prices are available:
– One day: 30€
– A monthly formula: 295€
You have to make a price request. But for a quick overview: https://www.techlounge.be/en/coworking
Namur
Located in Namur, Trakk offers 80 coworking places across offices and meeting rooms as well as lots of other things such as a Fablab, changing rooms, terraces and a super cool cafe. There is everything you need. What are you waiting for?
Several prices are available:
– 1/2 day: 10€
– 5 days: 100€/month
– 10 days:  150€/month
– 24/7: 200€/month
For more info: https://www.trakk.be/services/coworking/
Charleroi
👉 https://coworking.charleroi-entreprendre.be/
The Coworking space is a dedicated service of Charleroi Entreprendre. Charleroi has the wind in its sails and has picked up in popularity thanks to its economic revival and its digital knowledge. The city has everything you need to succeed. Collaboration here is omnipresent thanks to the general desire to share ideas, expertise and experiences.
Price:
– All in: 185€/month
More info: https://coworking.charleroi-entreprendre.be/tarifs

Antwerp
Fosbury & sons offices are definitely the leaders for high-end offices. With their high ceilings and their photogenic rooms, they stand out from the crowd. Their several bright offices in Brussels and Antwerp are super impressive. It's worth it!
Several prices are available:
Shared offices:
– Atelier: 395€ /month
– Resident: 295€ /month
Other possibilities:
– Nomad: 145€/month
– One day: 24€
Be careful the prices depends on location: https://fosburyandsons.com/workspaces
Bar d'Office has today at least 41 coworking spaces in 31 different cities, each one as unique as the next. Every location has its own identity and facilities to make networking and collaboration smooth and efficient. And you know what's best about them? All their spaces are smart, sustainable and mobility-friendly and you can access all their locations with 1 subscription! Advantageous, right?
Several prices are available:
– 1/2 day: 12,50€
– Part-time: 180€/month
– Full time: 300€/month
Find the best coworking based on your location and your needs: https://work.bardoffice.eu/find-us/
GAND
The Hive wants to develop the digital scene in Ghent into a real digital center where several companies in the sector work together in a creative, sustainable and innovative atmosphere.
Several prices are available:
– Full time: 350€/month
– Part-time: 200€/month
There are also other services to see here: http://www.thehive.gent/services-2/
The main drive for Studio Massis is creativity. Space is designed to be a place of inspiration for freelancers that allows a real exchange between each other (experiences, ideas, professional development). In short, it is a stimulating environment that allows everyone the opportunity to blossom.
Several prices are available:
– 12 days: 195€/month
– 24/7 – 320€/month
http://www.studiomassis.be/formules/